WOW Jubilee IV 1-30 April 2020
WOW Jubilee Corona I – is the 1st Corona edition
WOW Jubilee IV is an intervention in virtual space featuring videoart, netart, soundart & associated interviews complemented by
Retro Torrance
During April
Torrance Art Museum Los Angeles was hosting in 2014, 2016 and 2016 the extended videoart screening programs Agricola de Cologne was curating for CologneOFF, artvideoKOELN and The W:OW Project, and confirmed this way the quality of the audio-visual works and programs, as well as the trustful transatlantic collaboration.
Since Torrance Art Museum will be closed during April 2020 due to the Corona crisis and in April the 4th collaboration with Torrance Art Museum was scheduled – NewMediaFest2020 would like to open a virtual version of the museum's darkroom by presenting the screening programs of the previous three collaborations in 2014, 2016 and 2018
PDF catalogue
CologneOFF X – Total Art
CologneOFF 2014 USA
8 November – 6 December 2014 
CologneOFF 2014 USA
@Torrance Art Museum Los Angeles
8 November – 6 December 2014
CologneOFF X– " Total Art "
Selections, entitled:
Alienate Territories – Alienated Identities – Alienated Time Lines – Alienated Memory
curated & coordinated by Wilfried Agricola de Cologne
CologneOFF X – 10th Cologne International Videoart Festival
"Total Art" – (Gesamtkunstwerk) – curated by Wilfried Agricola de Cologne
The motto of the 10th Cologne International Videoart Festival – "Total Art – Gesamtkunstwerk" is not only related to the type and contents of the audiovisual video works to be selected, but also to the meaning CologneOFF has as an artistic creation of its own.
It points to the fact that the festival activities are the creative output of the media artist Wilfried Agricola de Cologne, founding director und curator of CologneOFF whose artistic creative work in form of curating is manifesting itself in that special type of art work, the 10th festival edition of Cologne International Videoart Festival., respectively the totality of the project, entitled CologneOFF – Cologne International Videoart Festival, including 10 editions of an experimental and experimenting festival, and in this way, 10 years of an exciting media development. The festival as an art project and a cultural creation.
However, Agricola de Cologne is not placing himself and his creation in the foreground, but the particular complex audiovisual creations by the submitting fellow artists whose video works follow all the idea of the "Gesamtkunstwerk" using an individual audiovisual language, and in this way, the medium of digital video in all its technological complexity in order to confront the audience with multi-facetted contents, the manifestation of philosophical, political, cultural or artistic statements through a critical view on the PRESENT, sometimes ironically and with a sense of humour, but very serious und profound in artistic concern.
The programs follow each one a concept of its own alienating usual perceptions in visual and philosophical terms. They reflect art transporting memory from the Past, the identity of the artist under continuously changing conditions, the environment people are living referring to Present and Future.
By taking a look on the reality they recognize the world is not like it looks like, a game between the real and surreal, between the subjective and the objective, polarizations and contradictions within themselves, exciting and disturbing.
CologneOFF X is the10th festival edition in sequence. In the time of the rapid development of everything is that kind of continuation representing an enormous value, especially considering that CologneOFF started in 2005, its foundation from point zero, and established among the relevant videoart festivals on the globe within quite a short time despite or due to the concept of a new type of nomadic festival which is taking place all over the year, seven days a week and 24 hour ours a day, in an exchange between virtual & physical space via the Internet & festival events all over the world with the best collaboration partners.
Venues
-Videoart Festival Miden Kalamata Greece – 3-5 July 2014
-Waterpieces Video & Art Festival Riga/Latvia – 15-17 August 2015
-MIVA _ International Videoart Festival Quito/Peru – 25 August – 14 Sept 2014
-Institut fuer Alles Mögliche Berlin/Germany – 4 September 2014
-Muza Plus – a space for art Tel-Aviv/Israel – 13 September 2014
-Onomato e.V. Düsseldorf/Gerrmany – 25 September 2014
-Proyector Videoart Festival Madrid/Spain (25 Sept – 05 Oct 2014)
-Athens International Videoart Festival (Greece) – 3-5 Oct 2014
-"Damen und Herren" e.V. Düsseldorf/Germany – 10 October 2014
– Parachute Light Zero Paris France – 21 November 2014
-EuroShorts Film Festival Gdansk/PL 24-30 Nov 2014
-Euro Shorts Film Festival Warsaw/Poland 24-30 Nov 2014
-VideoBabel – International Audiovisual Festival Cuzco/Peru (24-29 Nov 2014)
-Torrance Art Museum Los Angeles/USA – 8 Nov – 5 Dec 2014
-Ares – International Film and Media Festival Syracuse/Italy 26-30 December 2014
-CeC- Carnival of e-Creativity Shillong/Meghalaya/India 1-3 May 2015
In The Name Of TRUTH
CologneOFF 2016 USA
2 April – 28 May 2016
CologneOFF 2016 USA
In the Name of TRUTH : Time, Peace and Humanity
2 April – 28 May 2016
The W:OW Project
WOW.18 / USA
21 July - 14 December 2018
including the curators - Wilfried Agricola de Cologne, Marina Fomenko, Ynin Shillo, Maurizio Marco Tozzi, Erick Tapia, Roland Wegerer, Gioula Papadopulou, Antonio Alvarado, Georgi Krastev, Paulo B. Menezes, Eirini Olympiou
PDF catalogue for download
Statement by Wilfried Agricola de Cologne
WOW.18 / USA is the 18th and so far most comprehensive manifestation of "The W:OW Project – We Are One World" and the 1st one in USA @ Torrance Art Museum.
Running between 21 July and 14 December 2018 @ TAM, the screening program series of "The W:OW Art Film & Video Festival" are presenting the entire artvideo program as it was presented at 10 the venues in 2017 including more than 125 art films & videos by 125 artists from about 30 countries selected by 10 guest curators from Mexico, Greece, Spain, Portugal, Bulgaria, Italy, Israel, Austria & Russia and the German Wilfried Agricola de Cologne as a chief curator and director of "The W:OW Project" – packed into 20 curated, conceptual programs.
According to its concept of and reflecting the diversity of life, in general, and human existence, in particular, "The W:OW Project" program would like to present a diversity of artistic and curatorial concepts, as well as a variety of topics affecting human individuals whereever they live on the globe. The project is using the technology of video and the medium of "moving images" as a contemporary audio-visual language of art, addressed to an open minded audience who is eager to learn new ways of viewing following the new rules of "artvideo", differently than the mass of static and moving images overwhelming people in daily life permanently like in cinema, television or Internet – giving the individual image or "frame" back its individuality, and time another relevance and perception.

The curators
Wilfried Agricola de Cologne
Marina Fomenko
Ynin Shillo
Maurizio Marco Tozzi
Erick Tapia
Roland Wegerer
Gioula Papadopulou
Antonio Alvarado
Georgi Krastev
Paulo B. Menezes
Eirini Olympiou

Article
by Brit Bunkley (WOW Project artist from New Zealand visiting Loas Angeles in August 2018)
The Torrance Art Museum is a publically funded gallery in the Kunsthalle style. They have put on some of the best exhibitions in southern California. The Assistant Curator, Benjamin Tippin told me that their current emphasis is on art that defines the edge between digital art, sculpture and video. The director and head curator of the Torrance, Max Presneill has been named one of the "8 Best Art Curators In Los Angeles" by CBS, Los Angeles.
Their current exhibitions are outstanding. "Phantom Lim", curated by Benjamin Tippin and Max Presneill, is a tasteful group show in the "unmonumental" style that includes the likes of Jessica Stockholder's A Green Cut and Coleen Sterritt's Be Narrow, Tall, Stacked, Stuffed, Rolled And Folded. The adjacent exhibition, Nascent Love by Erika Ostrander / Christian Tedeschi continues in a similar vein of sculptural collage.
The W:OW Project – We Are One World" an art video program of more than 125 videos from nearly 30 countries is being exhibited between 21 July and 14 December 2018. There are 10 curated slots lasting one to two week each. Each slot has one to three programs of curated videos.
We were lucky to see the first 2 programs of "WOW:3: We Will Fail (Art Is Indivisible)" curated by Wilfried Agricola de Cologne. All the works were intriguing; with stand put pieces by Ausin Sainz's "Liberty", and Valerio DE BONIS– "I would claw my eyes out".
.
Video
the solo feature of Albert Merino
As the director and curator of Cologne International Videoart Festival, Agricola de Cologne had to review up to 1500 submissions for preparing the next festival edition. Even if a team of different curators would review seriously, reviewing and selecting videos & films is representing an enormous logistic & conceptual challenge. When artists like Albert Merino were submitting the selection procedure can always be abbreviated, because since the 1st submission in 2010 each of the submitted films have not just an equal, but an increasing quality – that's why they stand out from all others. Each new work is a new surprise.
Although Agricola de Cologne was enthusiastic from the beginning, the number of filmic works following each other made it evident, this artist has an enormous creative potential going far beyond the knowledge how to use audio-visual effects – the transformation of dreamlike, surreal ideas into a language of moving images that really matter, made it easy for Agricola de Cologne to accept each submitted high standard work. Awarding Albert Merino as videoartist of the month April 2020 is a view back by honouring 10 years of imaginative film making which was always giving the promis that the abundance of creativity and imagination would generate also in Future more of such astonishing filmic works. Being confronted with the artist's films and the way of practised collaboration was always a great pleasure!
CologneOFF I
Kinema IKON
VIP – VideoChannel Interviews IV
Netart
Solo feature of the month April 2020 – Jody Zellen
Recipient of JAYA'01 – The JavaArtist of the Year 2001 Award
Jody Zellen was one of the first artists, Wilfried Agricola de Cologne was meeting virtually after he launched his Internet based activities as an artist and curator. Jody's Internet based work which was already quite comprehensive in the year 2000, belong to the first external netart works, Agricola de Cologne was confronted with before Jody was following his first calls for netart in 2000. At the same time, on which platforms his own net based works were accepted for participating, nearly always Jody Zellen was participating at least with one of her works, as well.
It was the quality of her work which impressed him from the beginning, her works were inviting to visit the project sites not just once, but many times and all her works have the same level of quality, this is generally something unsual. So, while Agricola de Cologne was preparing his shows on JavaMuseum, but Jody participated on other of his platforms, as well, as soon as there was the decision made to give "The JavaArtist of the Year Award" for the first time, it was clear, that Jody's work had to be honoured with the 1st Award 2001, and she was the only artist who had even two solo features afterwards.
When Agricola de Cologne was preparing NewMediaFest 2020 during the year 2019, and he checked how many netart works would be still online after so many years, he was surprised that the majority of works involved in the previous JavaMuseum shows had either simply vanished leaving just dead links, mostly together with the artists themselves, but it was no surprise, that Jody's works were not only existing and located online under the same URL, but her entire works was perfectly documented, and then while reviewing her works after so many years again, he found them nearly as exciting as he had reviewed them for the 1st time. Despite they are technology based like any good art work they are timeless, and that's certainly the best compliment which can be made to an artist, that his work isn't just fashionable for a limited period of time.
The JavaMuseum – netart features
include interactive works by Reiner Strasser, Sachiko Hayashi, Maya Kalogera, Raúl Moarquech Ferrera-Balanquet, Katie Bush, Santo_file, Simon Fildes & Katrina McPherson, Yucef Merhi, Talking Birds
JIP – JavaMuseum Interviews IV
Soundart
"SoundLAB I
WOW Jubilee IV is an intervention in virtual space featuring videoart, netart, soundart & associated interviews complemented by
The 365 Days Diary for April 2020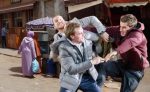 Posted: April 1, 2020
feature WOW Jubilee IV 2020 Casablanca 2009 1 April – that's a date which seems to be just a joke, but it isn't funny that on 1 April 2010 Wilfried, just arrived in Casablanca on invitation of the Goethe Institute Rabat/Morocco to hold a workshop between 01-04 April, is attacked…