video feature
Hongkong – Microwave New Media Arts Festival
Visions in New York Festival
Marseille – Instants Videofestival
Hongkong
Microwave – New Media Arts Festival Hongkong – 13 Nov-11 Dec 2009 – CologneFF-VideoChannel
Microwave – CologneOFF partner festival 2009
released originally in 2009 on
netMAXX
Microwave International New Media Arts Festival 2009
Nature Transformer
[Partner festival 2009]
As we evolve into an increasingly automated society of convenience, technology becomes a vital appendage of our bodies; allowing hard workers to no longer separate between day and night, making us feel restless every time the mobile phone is left at home. But is our love affair with technology making life better, or turning into a weapon of mass destruction against our planet?
In 2009, Microwave International New Media Arts Festival wants to examine our relationship with nature, as both sides struggle to take on challenges we continuously provide each other with. Presenting artworks that combine academic research, creative concepts and environmental awareness, this year we hope to bring to Hong Kong ideas that will trigger self-reflexive contemplation, leading to a better understanding of our correlation with nature, the extent of it, and the significance of it.

We love our habitat, that's why we try to transform it by all means, like what we did in a relationship; and we eventually know that – may we will finally destroy each other. This is what we want to explore this year.
About our habitat, about our "nature", about our current situation. Artists around the world would be selected to Microwave for a series of inspiriting programmes including exhibitions, workshops, screenings, conference and performance in the festival (13th – 22nd Nov 2009).
Microwave as an art and creative organization which always present various programmes to promote media arts (the perfect blending of technology and art) and support public education; we used to present
our annual festival since 1996, with the support of government units (e.g. Hong Kong Arts Development Council). And we also organized numbers of outdoor concerts, performances, workshops, competition
etc. to increase public engagement to art and culture. Stepping into our 13th anniversary, Microwave Festival 2009 will present to Hong Kong imaginations on ways that interpret the ecology aspect as well as
the evolution of human perception on outer world through creative uses of today's technology.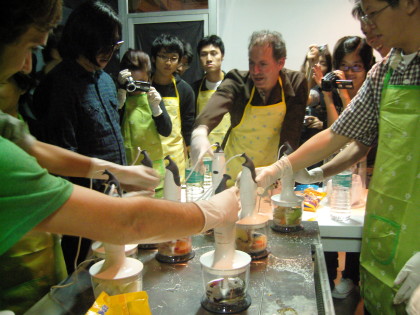 About Microwave
Microwave Festival began in 1996 as an annual video art festival of the local video art institution Videotage. But as technology progressed and became more accessible, video art slowly evolved to involve other media; thus Microwave began to embrace the wider range of new media art. Eventually branching out as an independent art festival dedicated to new media art, Microwave has steadily grown into a well-established festival that brings cutting-edge works to provoke thought in the technological hub that is Hong Kong every year.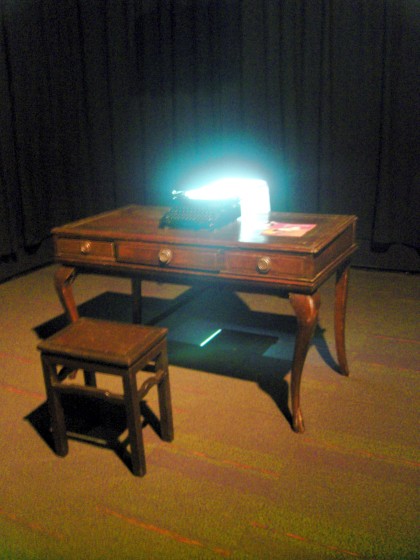 Now stepping into our 13th year, Microwave will continue its hard work to inspire Hong Kong and the rest of the world with pioneering media artworks selected to suit themes relevant to our society today, while also avidly supporting the exchange and dialogue between artists, professionals and the general public. Microwave envisions that through its network, Hong Kong artists will be introduced to international institutions and curators, working as a platform and gateway for them to develop their art and skills. Apart from the grand annual festival, Microwave also endeavours to nurture a rising local new media arts community, organising various programmes such as educational workshops, seminars, forums and exhibitions.
2009 programme overview
Festival Opening
Hong Kong City Hall Exhibition Hall
18:00, 13 November 2009 (Friday)
==
Festival Opening Concert
Untitled Entertainment x Microwave presents Visual Music
Featuring The Light Surgeons (UK), Scanone (UK), 8GG (China), Fort Knox 5 (USA)
Rotunda 3, HITEC, Kowloon Bay
20:00, 13 November 2009 (Friday)
==
Nature Transformer Main Exhibition
Hong Kong City Hall Exhibition Hall
13-22 November 2009
12:00-20:00
Participating Artists:
Petko DOURMANA (Bulgaria)
Tiffany HOLMES (USA)
Colin IVES (Canada)
Natalie JEREMIJENKO (USA)
Akio KAMISATO (Japan)
Takehisa MASHIMO (Japan)
Satoshi SHIBATA (Japan)
Victoria VESNA (USA)
==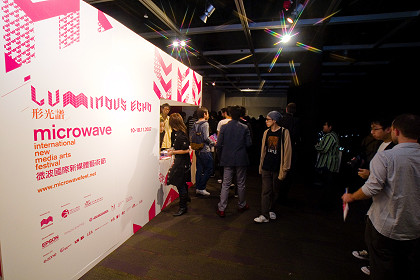 Project Room Exhibition: Artists in Residence at Langham Place Hotel
Langham Place Hotel Lobby & Portal — Work & Play (L5)
14 November – 11 December 2009
06:00-00:00
Participating Artists:
Kult (Singapore)
Aram Bartholl (Germany)
Tiffany Holmes (USA)
Joao Vasco Paiva (Portugal)
==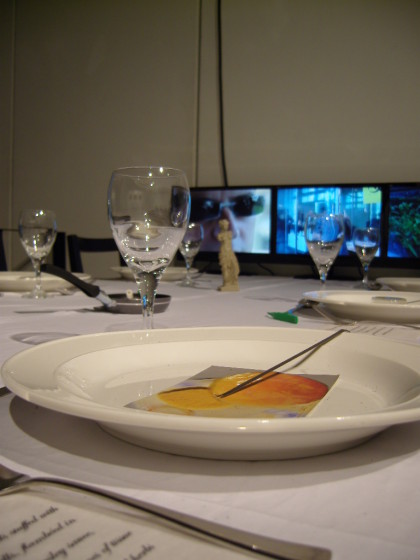 Public Screenings at I/O (Input/Output)
www.inputoutput.tv
Memory & Identity
A selection by Visual Container, Curated by Giorgio Fideli
Presented by VideoChannel
14-24 November 2009
Real Nature is Not Green
Concept: Koert van Mensvoort & Mieke Gerritzen
25 November – 6 December 2009
==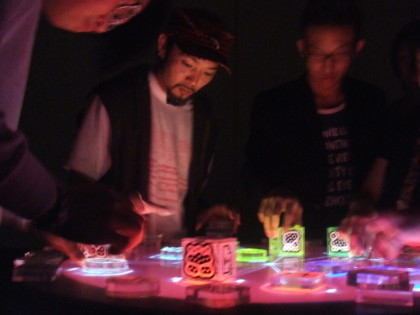 Screening Programmes
at Hong Kong Heritage Discovery Centre Lecture Hall
Narrative, Life Texture & Concept Extension in Media Arts
Curated by Art Yan
Pre-screening talk + screening
22 November 2009
14:00-15:45
Body & Soul 15:15:15
Curated by Wilfried Agricola de Cologne
Presented by VideoChannel
Screening + Talk
22 November 2009
16:00-17:30
Real Nature Is Not Green
Concept: Koert van Mensvoort & Mieke Gerritzen
29 November 2009
14:00-15:00
Selected Animation by Digital Art of China
Curated by Wang boqiao
29 November 2009
15:30-16:40
==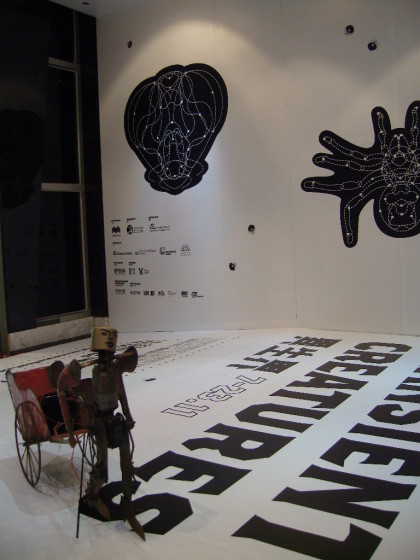 Nature Transformer Artist Symposium
Hong Kong City Hall Exhibition Hall
14 November 2009
14:00-17:00
==
Keynote Conference
Hong Kong Heritage Discovery Centre Lecture Hall
15 November 2009
11:00-16:00
Speakers:
Tiffany Holmes (USA)
Victoria Vesna (USA)
Natalie Jeremijenko (Australia)
Koert van Mensvoort (Netherlands)
==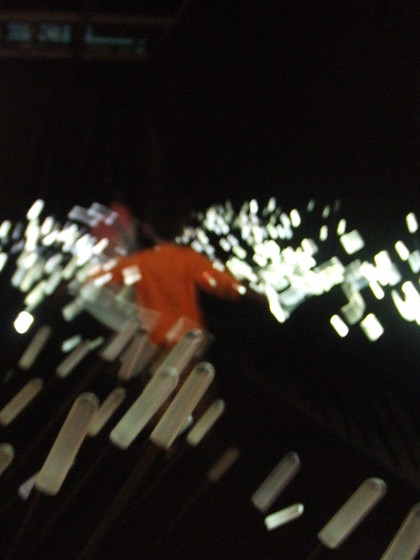 Workshops:
solarCircus
Hosted by Tiffany Holmes
Hong Kong City Hall Exhibition Hall
14 November 2009
17:30-19:30
Next Nature workshop: Re-tribalizing communication technology
Hosted by Koert van Mensvoort
Hong Kong Heritage Discovery Centre Activity Room
15 November 2009
16:30-17:45
The Discreet Charm of the Invisible Reality
Hosted by Petko Dourmana
Hong Kong City Hall Exhibition Hall
21 November 2009
14:00-16:00
==
CologneOFF V @ Microwave 2009
body and soul – 15:15:15
curated by Wilfried Agricola de Cologne
for MICROWAVE – New Media Arts Festival Hong Kong 2009
Hamza Halloubi (Morocco) 1:00
Ran Slavin (Israel), 2008, 4:06
Marita Contreras (Peru), 2008, 4:00
Vladimir Mitrev (Bulgaria), 2008, 3:31
Julio Orta Villa Real (Mexico), 2996, 6:58
Anna FC Smith (UK), 2009, 2:08
Jamie Waelchli (USA), 2007, 11:09
Virginie Foloppe (France), 2007, 2004, 5:50
Philip Matousek (Germany), 2009, 3:32
Margarida Paiva (Portugal) 5:50
Alex Lora (Spain), 2007, 1:00
Roland Wegerer (Austria) 2009, 2:38
Alessandro Brucini (Italy) 2006, 4:39
Johanna Reich (Germany), 2008, 4:==
Rafael (Belgium), 2009,, 3:00
Bill Domonkos (USA), 2006, 3:11
New York
MACY Art Gallery @ Teachers College New York
Visions in New York – shortfilm Festival NY/NY – 13 November 2009
Visions in New York
Agricola de Cologne – Silent Cry, 2016, 3:40
Short synopsis
Silent Cry is the visualization of an internal cry happening all the time, when society does not allow to show deep emotional affection. The silent cry is always present caused by never ending traumatizations during decades hidden behind the facade people wants to see. And even if the cry would be be seen or heard, people would refuse to face it. The work release is giving sound a particular relevance.

Marseille
Instants Video Marseille
Instants Video Marseille – screening at Marseille – 10 November 2008

Agricola de Cologne – One Day on Mars -. 8 mn couleur stéréo 2007
Un être humain est obligé de passer au moins un jour de sa vie sur Mars. Mars la désertique planète rouge, Mars le dieu de la guerre. Mars peut être n'importe où, à n'importe quel endroit assimilable à l'inhumanité, à la violence, à la haine, à la fureur, à la vengeance et au désespoir.
Instants Video Marseille – screening at Saint Denis (France) 16 October 2008

Urban.early sunday morning_raw, 2002, 4:40
video based on a poetic text by Agricola de Cologne inspired by the Central Station of Milan
Instant Video Festival Marseille/France – 12 December 2007 – Liege

Bareback – serialDIScharge, 2007, 4:50
The experimental film tells the story of a homeless person, who lost its identity in all the traumatic experiences it was undergoing. Again, Agricola de Cologne uses the form of the allegorical representation for pointing to essential questions of human existence. All people are homeless in on or the other way, most however, suffer from it without being aware of it. The film is a mirror of our time which has lost its roots.
Schedule for – 15 November
BEAP – Biennale of Electronic Art Perth/Australia – 1 September – 17 November 2004
Visionaria Film Festival Siena/Italy – 20 October – 20 November 2006
Biennale 3000 Sao Paulo by Fred Forest MAC – Contemporary Art Museum Sao Paulo – 7 October – 15 December 2006
*MICROPOLIS – International contest for Digital Film & Video Athens/Greece- 30 November -20 January 2006
*Centre d'Art la Panera, Lleida/Spain: 3 – 29 November -*"Violencia sin cuerpos"
Visions in New York City – Video Art Festival – 02-13 November 2009
Alternative Film Festival Tirgu Mures – 6-10 November 2013
24 Hours of Nuremberg Filmfestival – 11/12 Nov 2008
*Asolo Art Film Festival – Asolo (Italy) – 5-12 November 2005
*SELECT Media 4 Festival Chicago/USA – 3-13 November 2005